VeraniCARES about Girls, Inc.
Verani Realty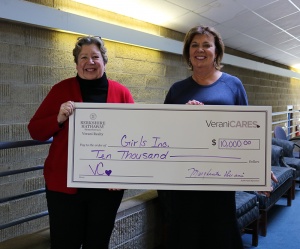 Girls Incorporated of New Hampshire is one step closer to a new look for their Nashua building thanks to VeraniCARES. Margherita Verani, CEO of Berkshire Hathaway HomeServices Verani Realty, stopped by to meet with Cathy Duffy, CEO of Girls Inc. and deliver a $10,000 donation.
Girls Inc. of NH supports girls in achieving their goals through positive experiences in leadership development. They provide a wide range of enrichment, sports and leadership programs as well as after school and summer vacation programs in Nashua, Manchester and Concord. Staff provide counseling and support for girls to grow their confidence and succeed.
"With Verani Realty's generous donation, we have raised over $1.5 million dollars so far and our goal is to reach $1.8 million," said Duffy. "It's a fabulous opportunity for us to finally renovate this building. Our girls are going to absolutely adore the updates once the renovations are complete."
"After meeting these impressive young ladies, it was clear to see that their experiences at Girls Inc. are a valuable part of their daily routine," said Verani. "Their positive experiences while at Girls Inc. will last long after they leave the program, and we are delighted to do our part to give back to these young ladies who will one day grow up to be strong, smart, and bold leaders in our community."
Check out the video from our visit:
VeraniCARES is a company-wide philanthropic initiative of Verani Realty that focuses on giving back to the communities we serve through Agent, Employee and company matched donations. Click here to learn more.
Share This Post